Pass The SPIRIT Competition 2020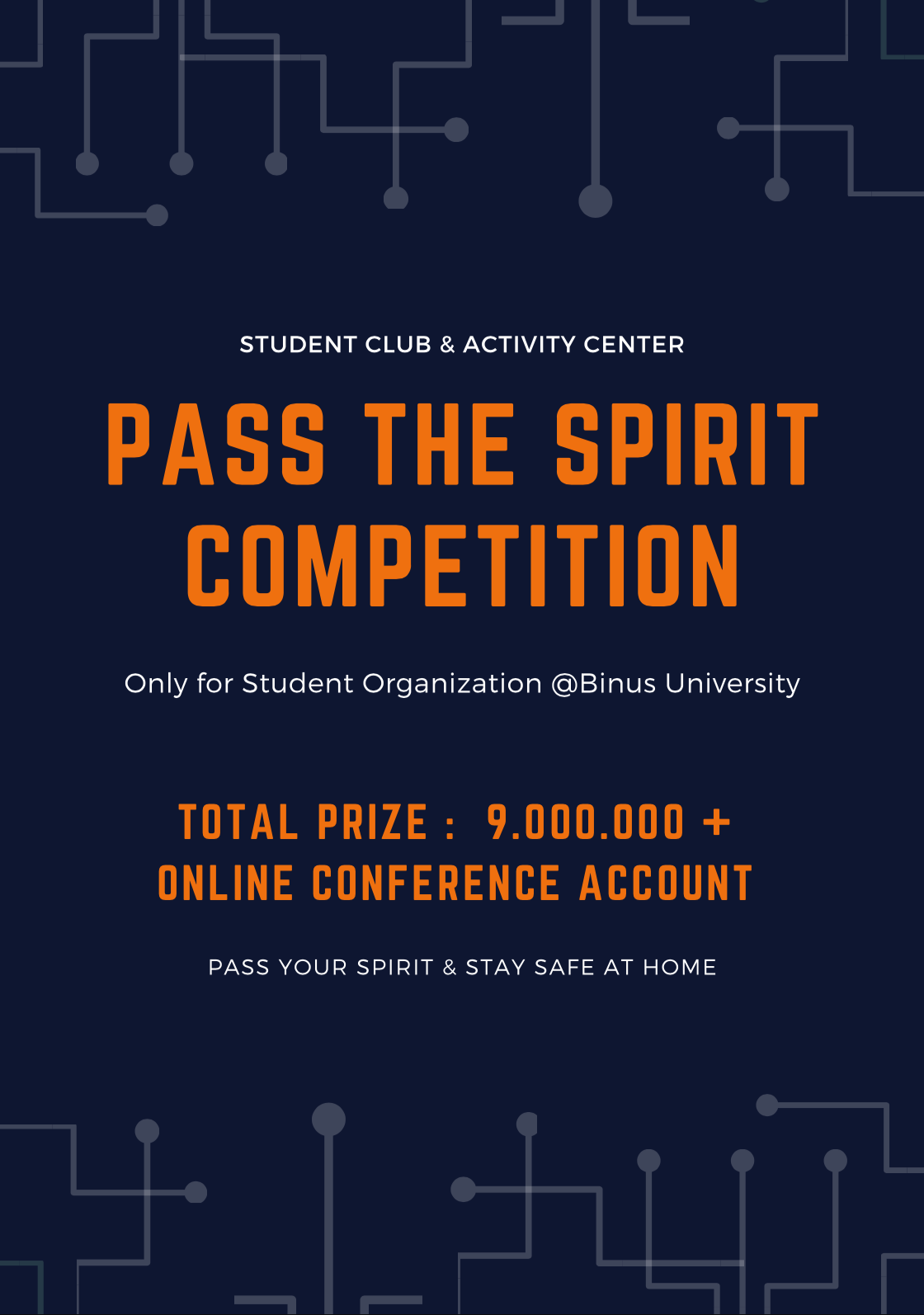 CONCEPTS AND GOALS
Student Club Creativity
Student Club Teamwork
SPIRIT to be Involved in Activities
HOW TO JOIN?
The participants include all Student Clubs at Binus University. Binus @Greater Jakarta, Binus @Senayan, Binus @Bandung, and Binus @Malang.
The participants are representatives of Binus Student Clubs, consisting of at least 10 individuals (1 Student Club 1 Group).
The participants do activities based on the core/characteristics of each Student Club.
The participants do improvisations and wear costumes by adhering to appropriate ethics and norms.
The participants can determine the music to be used.
The video should have a maximum duration of 2 minutes.
TIMELINE
Poster Teaser to Student Club:
Wednesday, 20 May 2020
Lebaran Holiday:
21–25 May 2020
Detailed Information to the Student Club:
26 May 2020
Student Club makes a video & submits it to SCAC :
3 June 2020, 3:00 PM
SCAC Posts it on IG @studentbinus:
4 June 2020
Viewed on IG:
4–10 June 2020
Evaluation:
9/10 June 2020
Winner Announcement:
11/12 June 2020
EVALUATION CRITERIA
Most Likes on IG: 40%
Judges' Evaluation Criteria: 60%
Costume
Media Passing
Idea & Creativity
Music
PRIZES
1st Place
Cash 3,000,000 + Zoom Account (Business)
2nd Place
Cash 2,000,000 + Zoom Account (Business)
3rd Place
Cash 1,000,000 + Zoom Account (Business)
4rd – 12th Place
Account Zoom (Pro)
IMPLEMENTATION
The Student Club makes a "Pass the spirit competition" video
The Student Club sends the "Pass the spirit competition" video to SCAC at: http://tiny.cc/Passthespirit
SCAC reviews the video from the Student Club
SCAC confirms to each Student Club about the videos that have been sent (approved/rejected)
If the video is accepted, then SCAC will upload it to: IG StudentBinus #passthespiritcompetition
SCAC evaluates the video
The winners are announced