Upgrade Yourself: How to Boost Your Confidence in Public Speaking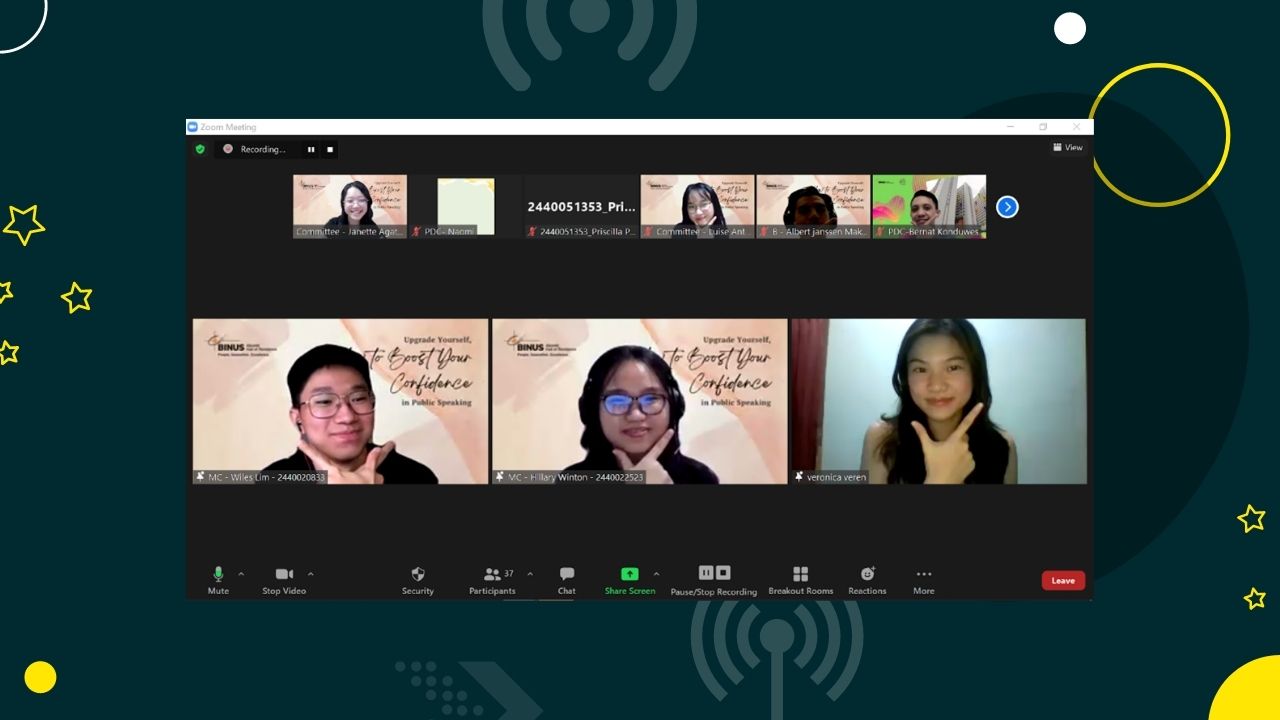 Penulis: Janette Agatha
BINUS Square Activist
Aktivis Mentor BINUS Square, Janette Agatha dibawah pembinaan Program Development Center BINUS Square mengadakan acara Upgrade Yourself: How to Boost Your Confidence in Public Speaking pada tanggal 7 Januari 2022. Acara yang diselenggarakan secara online melalui ZOOM ini dimulai dari pukul 19.00 dan berakhir pada pukul 20.24 WIB. Sesuai judulnya, acara ini diadakan untuk mengajak setiap boarder dalam meningkatkan kepercayaan diri mereka pada bidang public speaking.
Talkshow ini dihadiri oleh satu pembicara bernama Veronica Veren yang telah berkecimpung di dunia entertain sejak dirinya berumur 14 tahun. Dengan berdasar pada pengalaman bertahun-tahunnya, saat ini ia telah menjadi pengusaha muda dan mendirikan event organizer-nya sendiri. Veronica memiliki kemampuan public speaking yang baik dibuktikan dengan kepercayaan dirinya dalam menjadi Master of Ceremony pada berbagai jenis acara. Kepercayaan dirinya inilah yang juga membuat acara Upgrade Yourself. How to Boost Your Confidence in Public Speakingmenjadi lebih meriah. Jawaban Veronica atas berbagai pertanyaan yang diajukan oleh MC disambut baik dan dijawab dengan jelas. Hal ini menarik minat para boarder untuk turut menyuarakan pertanyaan mereka. Pertanyaan berkaitan dengan public speaking seperti bagaimana cara untuk mengatasi rasa percaya diri dari perkataan toxic orang lain sampai bagaimana cara untuk mengahadapi vendor atau client, berhasil memberikan insight untuk setiap orang yang telah hadir pada acara tersebut sehingga mampu meningkatkan rasa percaya diri mereka dalam public speaking.
AcaraUpgrade Yourself. How to Boost Your Confidence in Public Speaking merupakan acara talkshow yang harapannya dapat mengajak setiap mahasiswa BINUS terutama boarder BINUS Square sendiri, untuk memiliki tingkat kepercayaan diri yang lebih tinggi. Hal ini disebabkan karena seseorang dengan kepercayaan diri yang tinggi akan mampu untuk memimpin, mengambil keputusan, dan mempertanggungjawabkan hal tersebut.