Be Success Before 30
Hi Binusian!
Pasti sering denger istilah 'entrepreneur' kan? Sekarang, banyak anak muda yang menekuni bidang ini lho! Oleh karena itu, mereka disebut young entrepreneur.
Sebut saja William Tanuwidjaja (founder Tokopedia), Yasa Singgih (founder Men's Republic), Marchella Febritrisia (artpreneur Generasi 90an). FYI, mereka semua Binusian lho! Sesuai kan dengan target Binus, yaitu 2 dari 3 lulusannya bekerja di perusahaan multinasional atau menjadi entrepreneur ketika lulus nanti.
Terinspirasi buat jadi entrepreneur sukses kayak mereka? Kali ini, SAC menerbitkan newsletter berjudul "Be Success Before 30" buat kalian! Banyak hal tentang entrepreneur yang dibahas di sini. So, bagi yang tertarik memulai bisnis sendiri, reading this will be a good start for you!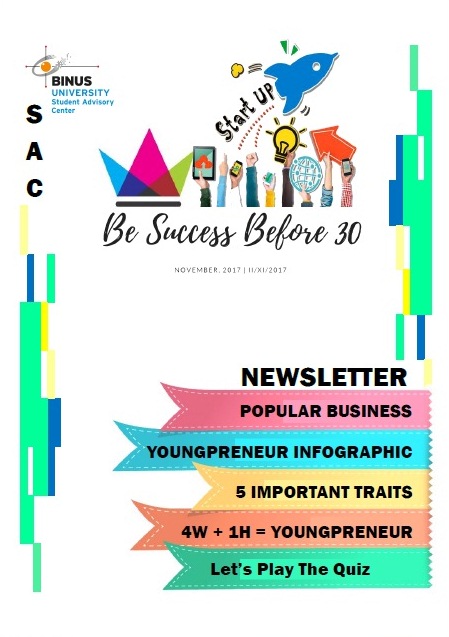 Kalian bisa download newsletternya di sini: http://bit.ly/2zvzk3F