SCDC & SADC – STUDENT ORGANIZATION UPDATE FIRST SESSION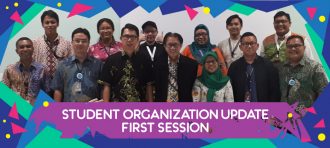 BINUS UNIVERSITY, ALAM SUTERA, MAIN CAMPUS
Pada hari Rabu, 29 April 2017, Student Creativity Development Center (SCDC) dan Student Advisory Development Center (SADC) melaksanakan acara Student Organization (SO) Update di BINUS University, Alam Sutera, Main Campus. SO Update kali ini dihadiri oleh seluruh Ketua Organisasi Kemahasiswaan (OK) yang ada di BINUS University, baik itu Ketua Umum dan Ketua Cabang.
Rangkaian acara diisi dengan kata sambutan yang disampaikan oleh Johan, S.Kom., MM (Vice Rector Student Affairs & Community Development), dan Drs. Andreas Chang, MBA, (Rector, School of Creative Technology, BINUS Bandung). Kemudian acara disambung dengan penampilan dari Bersama Dalam Musik (BDM) yang membawakan 2 judul lagu perpisahan dan rasa terima kasih kepada Drs. Andreas Chang, MBA dan Ignatius Edward Riantono, S.E.., M.Ak. (Student Organization Coordinator) yang telah membina Organisasi Kemahasiswaan BINUS University.
Selain merayakan perpisahan, SCDC dan SADC juga menyampaikan beberapa hal yang patut diketahui oleh Ketua Organisasi Kemahasiswaan, yaitu mengenai informasi terkait dengan Finance and Compliance, Website, Latihan Kepemimpinan dan Manajemen Mahasiswa (LKMM) dan Laporan Q1 dari PI Organisasi Kemahasiswaan. Setelah peyampaian informasi, acara ditutup dengan doa dan kembali ke BINUS University, Kampus Anggrek dengan Shuttle Bus yang telah disiapkan.