BINUS University, kembali mengajak seluruh BINUSIAN baik Mahasiswa, Dosen dan Karyawan untuk selalu ingat nilai-nilai BINUSIAN, yaitu Striving for Excellence, Perseverance, Integrity, Respect, Innovation, and Teamwork (SPIRIT).
Seluruh nilai-nilai tersebut dapat dilakukan dengan hal yang paling mendasar, yaitu kita dapat memulainya dari memahami apa itu Integritas. Yaitu kita membicarakan tentang konsistensi antara 2 hal, yaitu pikiran dan tindakan harus berjalan seimbang.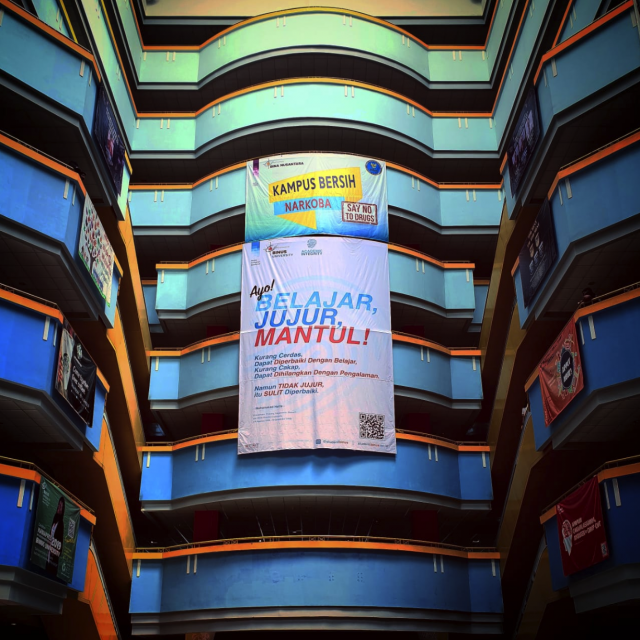 INTEGRITAS seringkali dipahami dengan perilaku, berkaitan dengan ETIKA dan MORAL dari seseorang. Keadaan perilaku dengan integritas selalu diharapkan dapat diterapkan tidak hanya pada tuntutan pekerjaan atau di dalam kampus saja atau pada saat ujian saja yang mengarahkan kita merasa "harus" memiliki integritas. Tetapi diharapkan juga menjadi karakter dari seseorang yang memahami dengan baik nilai-nilai kejujuran, dimana kita dapat menghormati diri kita sendiri dengan bersikap adil dan bijaksana, serta dapat mengambil keputusan secara etis.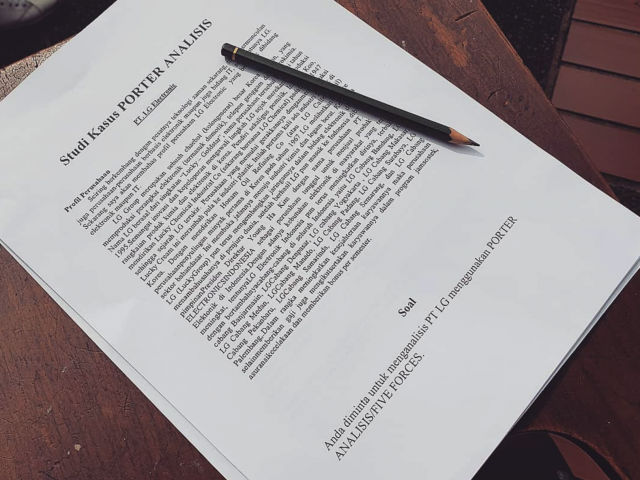 Selalu belajar dan bekerja dengan keimanan, akan mengarahkan kita ke jalan yang baik, selalu yakin bahwa hal yang positif akan membawa kita ke arah yang lebih baik. Belajar dan bekerja dengan ketulusan dan pikiran yang positif akan menjadikan kita semakin LEVEL UP! Selalu yakin dengan kemampuan diri sendiri bahwa kita mampu berdiri di bawah kaki kita sendiri. Berbohong kepada diri sendiri seperti menyontek, tidak akan membuahkan hasil apa-apa. Sedangkan berjuang dengan gigih, maka akan menjadi buah yang manis  pada akhirnya.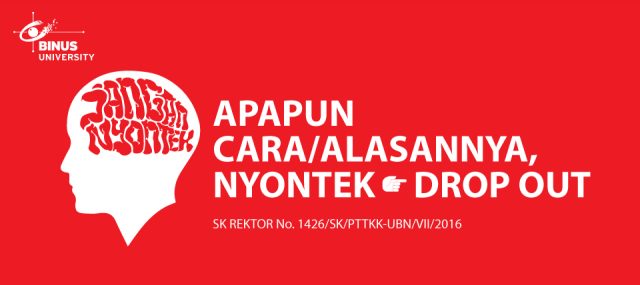 Sudah tahu apa arti di "DROP OUT" ?
Artinya saat kamu di-Drop Out, seluruh data diri kamu akan terekam dalam data pemerintah, Kementerian Pendidikan mengenai rekam jejakmu selama perkuliahan. Data ini dapat diakses oleh seluruh universitas yang ada di Indonesia. Nama baik kita sudah tercoreng karena telah berlaku tidak jujur.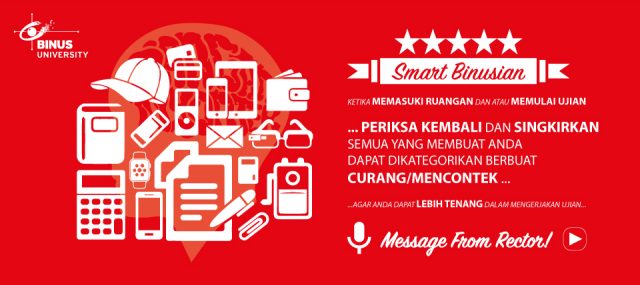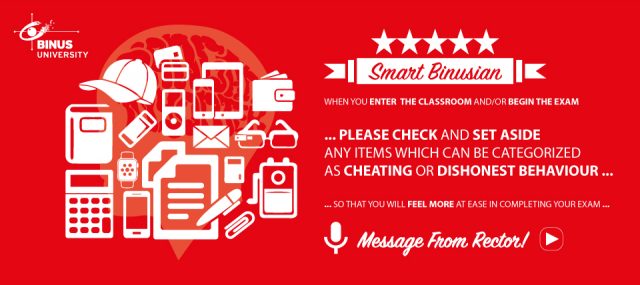 Melakukan Tindakan Pidana KORUPSI setelah LULUS KULIAH = Ijazah Ditarik Kembali
Tidak hanya menyontek saja yang harus kita hindari, tetapi setelah LULUS kuliah pun, integritas harus tetap dijaga. Agar ini menjadi nilai bagi diri kita dalam berbuat kebaikan baik untuk diri sendiri maupun untuk orang lain. Bekerja keras dengan kejujuran dua kali lipat akan mendatangkan 2 kali hasil terbaik untuk kita.
Perlu diketahui, bahwa apabila suatu hari nanti, di antara lulusan BINUS University tertangkap melakukan tindakan pidana KORUPSI, maka BINUS University tidak akan segan menarik kembali ijazah dari lulusan tersebut.
Hal ini telah disampaikan oleh Prof. Dr. Ir. Harjanto Prabowo, MM. (Rector of BINUS University) dalam setiap kesempatan acara perayaan Wisuda. Karena pendidikan yang dilaksanakan di BINUS University adalah pendidikan yang membuat kita mandiri, dimana seluruh proses pembelajaran harus berujung pada pembuktian diri, dapat mengerjakan soal-soal ujian dengan baik secara mandiri. Tidak melakukan tindakan-tindakan yang tidak terhormat seperti tidak jujur yang dapat menghilangkan nilai integritas. Untuk itu, Ayo! Belajar, Jujur, sampai Mantul! (Mantap Betul). Tuhan memberkati kita semua.