The 2018 Asian English Olympics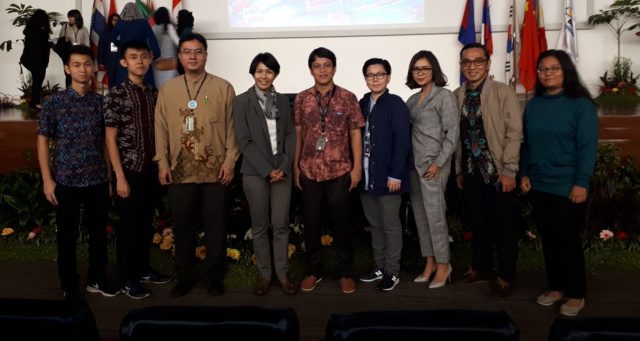 Foto bersama Desi Anwar dan Prasidya Puspa (CNN Indonesia).
9 Februari 2018, telah berlangsung acara pembukaan "The 2018 Asian English Olympics (AEO)" yang dihadiri oleh para peserta dari berbagai macam negara (Indonesia, Malaysia, Singapore, Filipina, Thailand, Vietnam, Bangladesh, Korea dan Macao). Acara AEO ini merupakan acara tahun ke-7 dalam pelaksanaannya yang diselenggarakan oleh Bina Nusantara English Club (BNEC) sebagai salah satu program kerja tahunan.
Dihadiri oleh perwakilan dari pimpinan BINUS University, yakni Karen Imam Peyronin, M.I.B (Director of BINUS Global), Robby Saleh, S.Kom., M.T. (Student Creativity Development Center-Manager), dan para undangan Cosmos Hendrawan, S.Sos (Student Organization Coordinator), Sri Widdyastuti, S.Kom (Section Head-Secretarial), dan Candy Reggi Sonia, S.Ds., M.Ds. (Student Organization Advisor), serta suatu kehormatan bagi kami bahwa dari para dewan juri yang terhormat dan rekan-rekan dari sponsor yang telah mendukung acara ini telah berkenan hadir untuk meresmikan AEO 2018 bersama.
Acara ini berlangsung meriah dengan dukungan penampilan dari rekan-rekan organisasi kemahasiswaan di BINUS University seperti PARAMABIRA (Paduan Suara Mahasiswa Bina Nusantara) dan STManis (Seni Teater Mahasiswa Bina Nusantara). Setelah itu dilanjutkan dengan pembagian tempat atau ruangan untuk kompetisi dari beragam kategori.
Semoga acara ini, seperti yang dikatakan oleh Karen Imam Peyronin, M.I.B (Director of BINUS Global), dapat menjadi ajang saling berbagi, saling mengenal perbedaan dan persamaan dari keunikan beragam budaya negara yang akan membuat kita semua menjadi satu, saling mengembangkan bakat bersama sehingga tercipta kesatuan yang indah. Terima kasih kepada seluruh pihak yang telah mendukung berlangsungnya acara AEO 2018 ini dan semoga sukses untuk seluruh peserta! Semangat! Be Extraordinary! 🙂