BSLC Gathering Semester Genap 2016/2017: Spread Your Wings
Student Advisory Center (SAC) dan Binus Student Learning Community (BSLC) mengadakan BSLC Gathering untuk Semester Genap 2016/2017 pada tanggal 20 Oktober 2017 yang lalu. Acara ini diselenggarakan untuk mengapresiasi kontribusi para mentor yang telah bertugas. Acara dibuka oleh Dede Mayangsari selaku ketua BSLC region Kemanggisan, Lukas Murdiyarso sebagai Mentoring Section Head of SAC, dan Pak Johan S.Kom, M.M. sebagai Vice Rector for Student Affairs and Community Development. SAC dan BSLC juga mengundang Dita Guritno untuk berbagi pengalamannya sebagai mentor pada Limitless Campus, sebuah platform pelatihan pengembangan diri.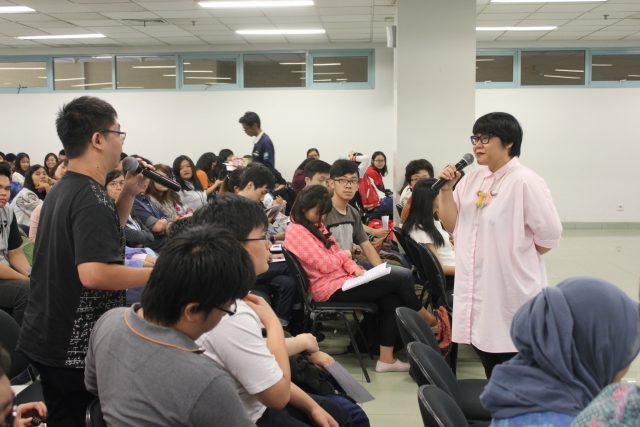 Dita Guritno, mentor Limitless Campus, menjadi narasumber pada BSLC Gathering kali ini
Pada acara ini juga, SAC dan BSLC bekerjasama dengan Lemari Buku-buku (LBB), sebuah komunitas yang bergerak untuk menyalurkan buku-buku ke daerah-daerah di Indonesia yang belum memiliki akses sebaik di kota-kota besar. Para mentor yang menyumbangkan buku-buku mereka akan diberikan ilustrasi dari wajah mereka. Beberapa mentor berkesempatan untuk menyaksikan proses pembuatan ilustrasi ini.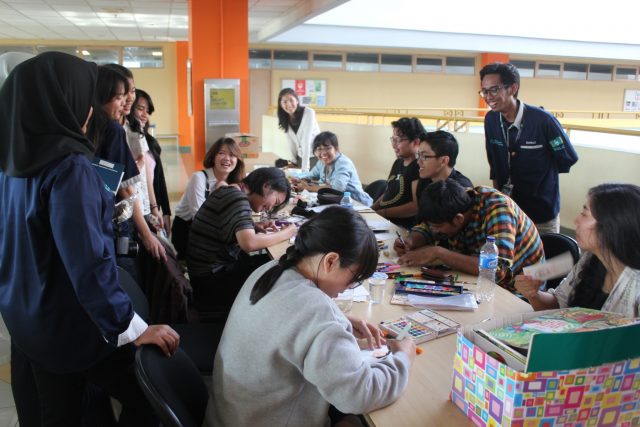 Proses pembuatan ilustrasi wajah para mentor
BSLC Gathering merupakan puncak dari kegiatan Mentoring, sehingga pada acara ini, para peserta dapat mengetahui siapa saja mahasiswa yang mendapatkan predikat mentor terbaik, mentee terbaik, dan member BSLC yang paling aktif. Hal ini dilakukan untuk mengapresiasi mentor-mentor yang telah bekerja keras untuk membantu mentee mereka, dan mentee-mentee yang mau melakukan perubahan agar prestasi mereka dapat menjadi lebih baik. Diharapkan juga hal ini mendorong mentor-mentor pada semester selanjutnya untuk bisa memberikan kinerjanya yang paling optimal untuk membantu teman-temannya.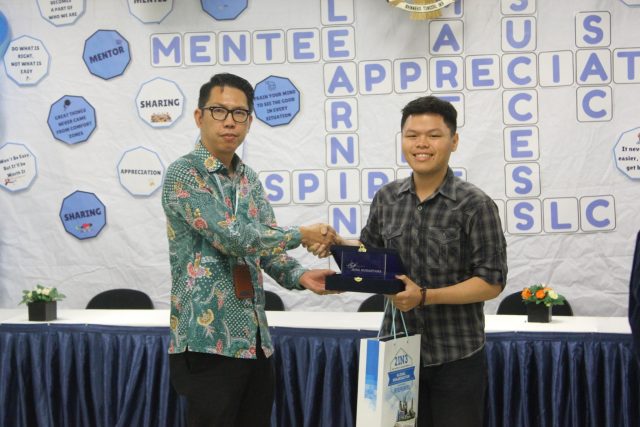 Ananda Iman Phan, Best of the Best Mentor pada Semester Genap 2016/2017
Acara ini kemudian ditutup dengan sesi ramah tamah antar mentor, pimpinan jurusan dan universitas, dan para staff SAC.