COCA COLA AMATIL INDONESIA BERBAGI KISAH KEMENANGANNYA BERSAMA MAHASISWA BINUS UNIVERSITY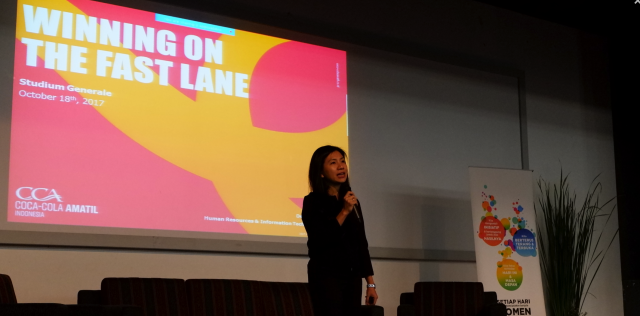 Jakarta, 18 Oktober 2017 – Di era globalisasi ini, banyak perusahaan yang semakin giat mengembangkan sayapnya untuk mencapai rekognisi yang mendunia. Mampu bertahan bertahun-tahun ditengah perkembangan zaman serta persaingan industri yang semakin kompetitif dan konsumen yang terus berkembang dan semakin kompleks kebutuhanya.
Banyak perusahaan yang kurang berinovasi mengikuti perkembangan zaman yang berakibat berkurangnya brand awareness masyarakat terhadap perusahaan tersebut yang berdampak pada revenue-nya.
Salah satu perusahaan yang dari awal berdirinya hingga kini mampu mempertahankan kualitas dan brand awareness masyarakat terhadap produk mereka ialah Coca Cola. Pertama berdiri pada tahun 1886 dan ditujukan sebagai minuman ringan. Coca Cola telah berhasil menjadi brand yang dikenal khalayak dalam 3 abad yang berbeda dan tetap memiliki konsumen-konsumen yang setia dari berbagai segmen.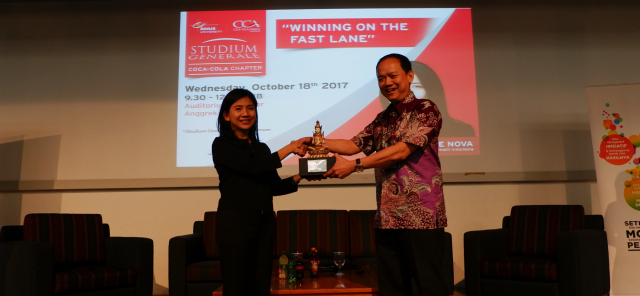 Keberhasilan yang telah dicapai Coca Cola untuk terus berinovasi dan secara dinamis mampu mengikuti perkembangan pasar adalah sebuah hal yang inspiratif dan patut untuk dibagikan sebagai ilmu yang berguna. Semua ini akan dibahas dalam Studium Generale: Coca Cola Chapter dengan menghadirkan Debbie Nova, selaku HR & IT Director of Coca Cola Amatil Indonesia sebagai pembicara.
"Sungguh merupakan sebuah kehormatan bagi pihak civitas academica BINUS UNIVERSITY mendapat kunjungan serta sharing ilmu dari Coca Cola Amatil Indonesia. Apa yang disampaikan oleh ibu Debbie Nova telah membuktikan akan pentingnya inovasi untuk mempertahankan ekuitas brand dalam dinamika industri yang berkembang pesat. Inovasi ini juga adalah salah satu elemen penting yang menjadi BINUS Values yaitu SPIRIT singkatan dari Striving for Excellence, Perseverance, Integrity, Respect, Innovation, Teamwork" ujar Nelly, S.Kom., MM – Vice Rector of Academic Operation & Resources BINUS UNIVERSITY.
Studium Generale merupakan salah satu wujud nyata dari visi BINUS UNIVERSITY "A World-class University, in continuous pursuit of innovation and enterprise," untuk mempersiapkan para mahasiswa agar siap bersaing dalam dunia global. Kegiatan ini bertujuan untuk memberikan pengalaman lebih kepada mahasiswa BINUS UNIVERSITY, sekaligus memperkaya wawasan mereka mengenai industri global.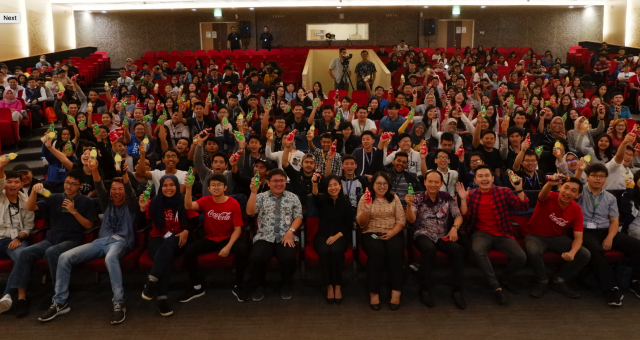 Sekilas tentang BINUS UNIVERSITY
BINUS UNIVERSITY merupakan perguruan tinggi terkemuka berakreditasi A di Indonesia yang berpengalaman lebih dari 36 tahun membina Nusantara melalui pendidikan. BINUS UNIVERSITY ditargetkan menjadi world-class university pada tahun 2020.
Dengan komitmen 2 dari 3 lulusan BINUS UNIVERSITY bekerja di perusahaan global atau menjadi entrepreneur, BINUS UNIVERSITY tidak hanya membekali mahasiswa dengan pengalaman belajar di kampus, namun mahasiswa juga diberikan pengalaman langsung di dunia industri. Melalui program 3+1, mahasiswa berkesempatan untuk bertemu dan belajar langsung dengan para pelaku industri. Dengan konsep belajar selama tiga tahun di kampus dan 1 tahun belajar di luar kampus, mahasiswa dapat memilih salah satu dari lima program yang ada : internship, community development, research, start-up business, atau twinning program (kuliah di luar negeri).