SAC Week: Seminar "Simple Healthy Food Makes Me Happy"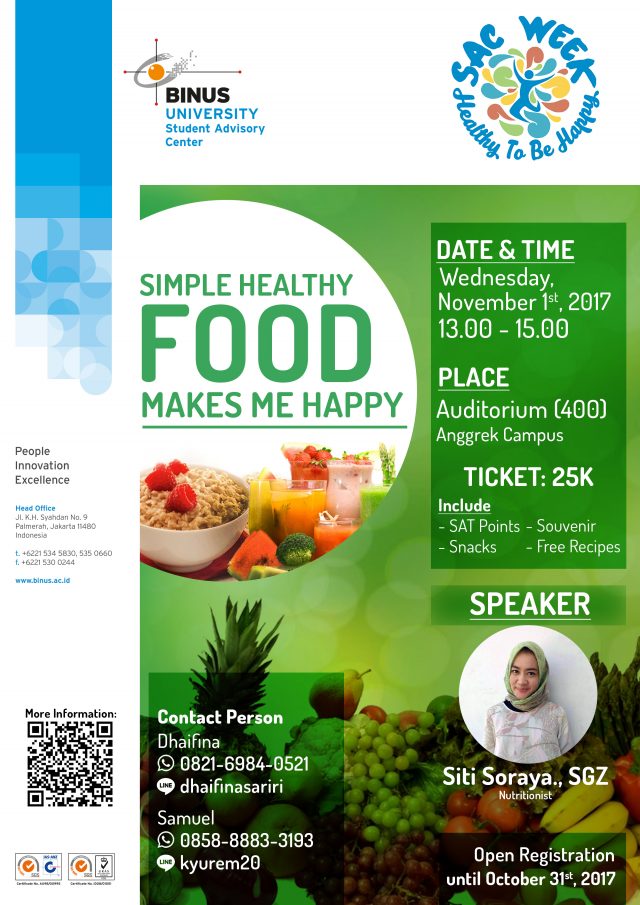 SAC Week: Seminar "Simple Healthy Food Makes Me Happy"
Event started       : Rabu, 1 November 2017, 13.00
Event ended         : Rabu, 1 November 2017, 15.00
Location                : Auditorium, lt. 4 Kampus Anggrek Binus University
Type                       : Seminar
Speaker:
Siti Soraya., SGZ
(Nutritionist PT. ISS Indonesia),
Memiliki Registritation Certificate of Nutritionist and Dietition.
Caption:
Hai Binusian! Mungkin gak sih bikin makanan sehat dengan budget pas-pasan dan bahan seadanya? Tenang aja, di seminar ini akan dibahas bagaimana cara bikin makanan yang sehat, simpel, dan in-budget mahasiswa.
Makan sehat bisa menyenangkan loh!
Yuk cari tahu bersama dengan pembicara yang aktif sebagai ahli gizi di salah satu katering sehat.
Tunggu apalagi, daftarkan dirimu segera!
Tiket dapat dibeli langsung di SAC
(ruang 511, lt. 5 Kampus Anggrek),
atau melalui Contact Person yang tertera di poster.
#SACWeek2017 #HealthytobeHappy