TIK TOK AND REELS COMPETITION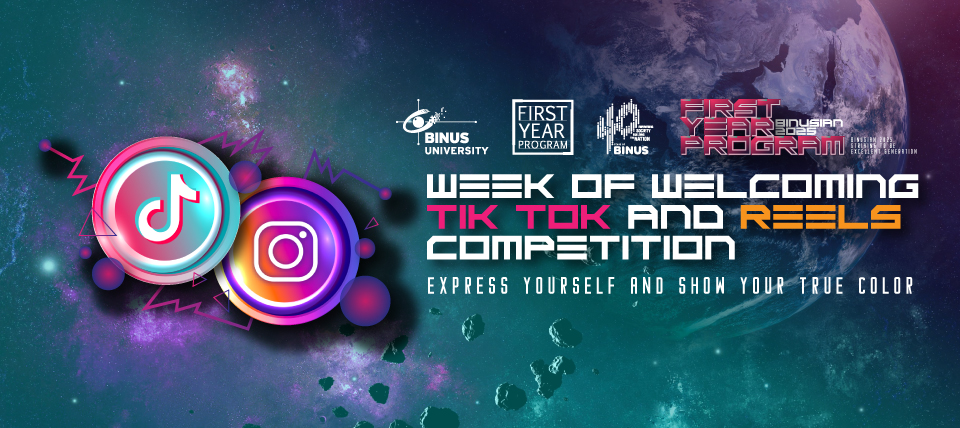 TIKTOK & REELS COMPETITION
"Express Your Self and Show Your True Color"
Hi Freshmen!
During the Week of Welcoming event series, you will have opportunity to express yourself and chance to win prizes in the TIKTOK & REELS COMPETITION entitled "Express Your Self and Show Your True Color".
 We are not only looking for First, Second and Third winner, there are also various interesting categories of winners that you can achieve. Registration and regulation to join the competition are very easy.
 Register yourself or your group (Individual or group are eligible to join the competition as stated on the regulations) through the link on the QR Code.
So, what are you waiting for, create a video, then upload it with the hashtag and other conditions described in the following file, right now.
Be creative, express yourself and show your true color!
Requirements
Have an instagram account – open for public.
Open for group or personal (prizes are the same).
Showing Binusian attributes on Tiktok Video and Reels.
Use provided hashtag.
Submission through uploading to Tiktok and Instagram according to technical requirements.
Registration through consent form.
According to video theme and technical requirements.
Technical Requirements
Participant : Personal or Group (Max 7 people)
Duration : 60 Seconds for Tiktok Video & 30 Second for Reels (you can  choose either one).
Hashtags : #WeekOfWelcoming #FYPBINUSIAN2025 #BinusianKeren #ProudtobeBINUSIAN #StrivingtobeExcellentGeneration
Completing Registration Form:
Name of participant for personal and Name of the Leader for group
Name of the major & faculty.
Contact Information.
Consent letter mentioning that the video is original, you created the content and are authorized to use.
Showing Binusian attributes on the Tiktok video. You can use Binus Merchandise, Alma mater Suit / jacket, or be creative!
Upload video to Tiktok and (or) Instagram Reels, tagged @fypbinus and @studentbinus. The account should be open for public / no private account.
Themes
University life: Story of my Campus
Study Life Balance
How to build relationship with new friends
Stay awesome & fashionable as a Freshmen
Proud to be BINUSIAN
Assessment Criteria
The hype of the Video
Relevancy to the Theme
No Pornography or Explicit Content
Unique
Original Content (No Plagiarism or copyright violation)
Content should not offend any ethnicity, religion, race, or inter-group (SARA)
Creativity
Timeline *in 2021
30 August : @event webinar, sounding tiktok competition
2 September : Registration open
2 – 12 September : Upload video period
13 – 16 September : Assessment by the judges
18 September : Winner annoucement @Inaugurasi
Winner Prize
1st Winner. Prize : Rp 2 Million
2nd Winner. Prize : Rp 1,5 Million
3rd Winner. Prize : Rp 1 Million
Honourable Mention Winner : Prize Rp 250.000 for each category winner
Category 1 "wah, Binusian Banget!"
Category 2 "ini sih Mahasiswa Banget"
Category 3″The most engaged Video"
Category 4 "The all – out"
Category 5 "The Most Entertaining"