RUANG XPRESI COMPETITION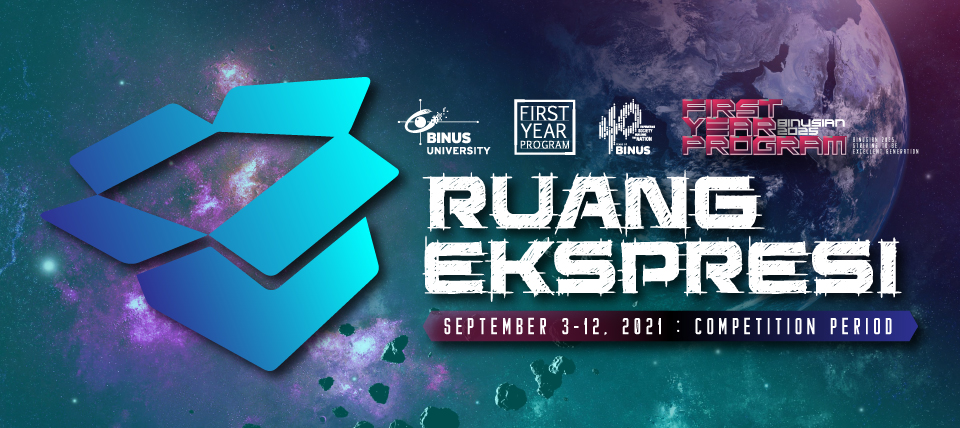 WHAT IS RUANG XPRESI COMPETITION?
"RUANG XPRESI" is a platform available for all BINUSIAN, where later you will be free to express according to what you are good at or interested in. "Ruang Xpresi" later it will be broadcast through BINUS TV Channel and also IG Studentbinus, the themes are also free, for example, Cooking, Technology, Fashion, Makeup tutorials, Dance or Social Awareness!! For sure you are free to express yourself! The best videos will be chosen and there will be prizes that have been prepared. So what are you waiting for. Prepare your best creative videos!!!
COMPETITION PERIODE
September 3-12, 2021
GRAND PRIZES
1st Winner    : Rp. 3.000.000,-
2nd Winner  : Rp. 2.000.000,-
3rd Winner   : Rp. 1.000.000,-
Requirements
Free Video Theme
Create & Upload your video on your IG Feeds
IG can't be private
MUST include your Name, NIM, Department, Regional and Hashtag:
#BINUSUniversity #FYPBINUSIAN2025 #RuangXpresibinus
in your post caption
MUST follow, tag and mention Instagram:
@fypbinus and @studentbinus
on your posts
Video Requirements
FULL HD 1920 X 1080
MP4 HD264
Audio quality must be balanced and not to much noise (recommended to do voice recording in an enclosed space and using a recording device sound in an enclosed space and using good recording tools or phone)
Duration 5 minutes, maximum 8 minutes
Content Requirements
Content does not contain elements of SARA, politics, narcotics and pornography
Using Free copyright songs

Wear neat and polite clothes, It is recommended to avoid the dominance of black in clothes, and avoid the pattern of small plaid clothes and small stripes for avoid image flicker All talents involved in the production are recommended for makeup/touchup face and hair styling for a better appearance.