Student Advisory and Support Center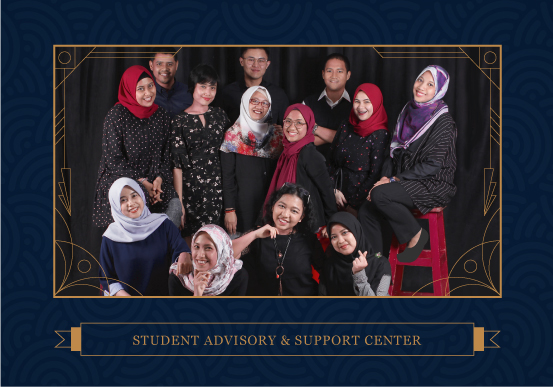 Student Advisory and Support Center (SASC) merupakan unit layanan yang membantu para mahasiswa BINUS University untuk mengikuti perkuliahan dengan nyaman sehingga mereka dapat memahami dan menyesuaikan diri dengan kehidupan perkuliahan. Melalui tagline "Partnering your Personal Growth, Enhancing your Well-being" SASC diharapkan dapat menjadi partner bagi para mahasiswa untuk bisa mencapai tujuan perkuliahan sesuai dengan kapasitas dan potensi yang dimiliki. Dalam menjalankan fungsinya SASC terdiri dari 3 layanan yaitu Konseling, Mentoring dan Layanan untuk Mahasiswa Disabilitas.
Konseling
Layanan Konseling bertujuan untuk  membantu mahasiswa yang mengalami kendala psikologis terkait bidang akademis dan non-akademis yang dapat menghambat keberhasilan studi. Mahasiswa yang lebih sejahtera secara psikologis diharapkan dapat mencapai prestasi yang optimal. Layanan diberikan bagi mahasiswa dan orang tua dalam bentuk konseling individual maupun program-program tertentu sesuai kebutuhan.
Mentoring
Layanan Mentoring memberikan fasilitas belajar bagi para mahasiswa dalam bentuk penyediaan mentor, tutor, modul dan lingkungan belajar yang kondusif. Komunitas belajar yang dikelola bersama dengan mahasiswa ini diharapkan menjadi wadah bagi para mahasiswa untuk bisa belajar dengan cara yang lebih menyenangkan sehingga memberikan hasil prestasi yang optimal.
Layanan untuk Mahasiswa Disabilitas
Layanan ini ditujukan kepada para mahasiswa yang membutuhkan pendampingan terkait dengan adanya kebutuhan khusus yang dimiliki oleh mahasiswa tersebut. Selain itu layanan ini juga membantu mahasiswa berkebutuhan khusus agar dapat mengikuti proses belajar mengajar di  BINUS University dengan lebih optimal.
Alamat :
SASC Kampus Kemanggisan
Kampus Anggrek Lantai 5 (R.511 dan R.515)
Jl. Kebun Jeruk Raya no 27 Jakarta Barat. 11530
Telp: +6221-5345830
Ext : 1501-1503, 1505
SASC Alam Sutera Campus 
Jl. Jalur Sutera Barat Kav. 21, Alam Sutera
Tangerang 15143
Gedung A Lantai 3 R.A0307
Telp : (+62 – 21) 2977 9100
Ext. 7202
SASC Joseph Wibowo Center (JWC) Campus
Jl. Hang Lekir I No. 6, Kebayoran Baru
Jakarta Selatan 12120
Lantai 2, Ruang 204
Telp : (+62 – 21) 720 – 2222, 720 – 3333
Fax : (+62 – 21) 720 – 5555, 720 – 8569
Ext. 3312
SAS Bekasi Campus
Jalan Lingkar Boulevar Blok WA No.1
Summarecon Bekasi Kel, Marga Mulya, Jawa Barat 17142
Ruang ASD
Telp : 021 – 2928 5598
Fax : 021 – 2928 5596
Ext. 7917
Jam Layanan Konsultasi
Senin-Kamis         : 09:00 – 16:00 (Istirahat pukul 12:00 – 13:00)
Jumat                    : 09:00 – 16:00 (Istirahat pukul 11:30 – 13:00)
Sabtu                     : 09:00 – 14:00 (Istirahat pukul 12:00 – 13:00)