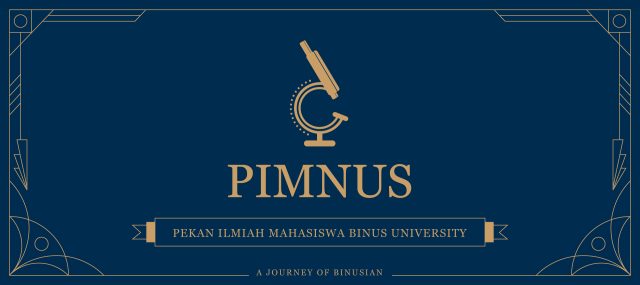 Pekan Ilmiah Mahasiswa BINUS (PIMNUS) merupakan kegiatan baru yang akan dilaksanakan BINUS University pada bulan Mei 2018 sebagai wujud nyata BINUS University menerapkan nilai dari Striving for Excellence and Innovation, Serta salah satu misi BINUS University, yakni:
"Providing a world-class teaching,
learning and research experience that fosters excellence in scholarship,
innovation and entrepreneurship"
kepada mahasiswa/i BINUS University.
Kegiatan ini dilaksanakan atas dasar sinergi dengan salah satu program dari Kemenristekdikti yang bernama "Program Kreativitas mahasiswa (PKM)".
PKM merupakan perwujudan dari Kemenristekdikti untuk mencapai tujuan dari perguruan tinggi diantaranya:
Sebagai tempat berkembangnya potensi mahasiswa agar menjadi manusia yang beriman dan bertakwa kepada Tuhan Yang Maha Esa dan berakhlak mulia, sehat, berilmu, cakap, kreatif, mandiri, terampil, kompeten, dan berbudaya untuk kepentingan bangsa.
Dihasilkannya lulusan yang menguasai cabang ilmu pengetahuan dan/atau teknologi untuk memenuhi kepentingan nasional dan peningkatan daya saing bangsa.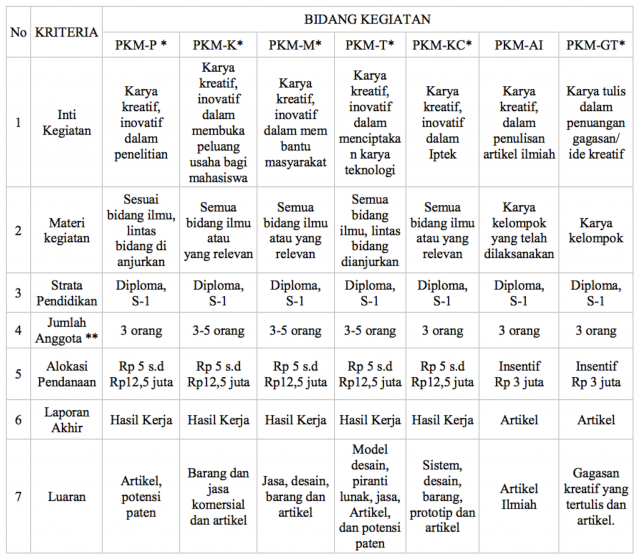 PIMNUS merupakan kegiatan dimana para mahasiswa/i BINUS University berpartisipasi aktif dalam program PKM. dimana para mahasiswa/i mencetuskan Ide Bisnis / rencana Penelitian/ Ide untuk memberi dampak langsung kepada masyarakat/ Gagasan Kreatif/ Artikel Ilmiah/ Rencana Penerapan teknologi dan Karsa Cipta dengan dilandasi Scientific Thinking ke dalam proposal PKM, kemudian disubmit dalam rangkaian acara PIMNUS untuk kemudian diseleksi sebanyak 900 kelompok mahasiswa dan dinyatakan lolos untuk mengikuti PIMNUS dan Submit ke Kemenristekdikti melalui: simbelmawa.ristekdikti.go.id
Bagaimana cara mendaftarkan diri sebagai peserta kompetisi PIMNUS 2018?
Anda dapat menghubungi PIC Kejurusan (Major PIC) di ruang Kejurusan untuk dikenalkan lebih lanjut kepada Dosen Pembina (Lecturer Advisor) yang akan membantu Anda dalam melaksanakan proses atau tahapan PIMNUS 2018 selanjutnya hingga proposal mendapatkan persetujuan dari Vice Rector of Student Affairs and Community Development, BINUS University.
Benefit apa saja yang didapat dari para peserta kompetisi PIMNUS 2018?
Benefitnya adalah ide dan gagasan Anda akan mendapatkan HKI (Hak Karya Intelektual) serta modal untuk merealisasikan rencana bisnis, penelitian, penerapan teknologi, pemuatan karsa cipta serta ide yang dapat membantu masyarakat dari Direktorat Jendral Pembelajaran dan Kemahasiswaan, KemenRistekDikti.
Kemudian BINUS University akan mengundang Anda sebagai tamu kehormatan dalam acara Appreciation Day periode 2018, dimana Anda akan mendapatkan penghargaan dan hadiah selain poin SAT sebesar >30 poin. Sedangkan untuk ke depannya, hasil penelitian yang Anda lakukan tersebut dapat menjadi portfolio yang memiliki nilai bagi perusahaan tempat Anda melamar.